Womanizer vs Satisfyer - Which is Better?
This week Lily Allen stormed the headlines when she announced her new collaboration with sex toy brand Womanizer.
She's released her own special edition of the Womanizer whilst spearheading their new slogan: 'I masturbate, do you?'.
It's been a fantastic publicity coup for the German brand, and (importantly) for the sex toy industry as a whole.
Whether or not Lily sat at a workshop table - with a team of engineers - meticulously crafting her new vibrator is irrelevant. What matters is the positive impact her involvement will have on the public perception of sex toys. 
Lily Allen is a household name. Her endorsement of Womanizer only helps to normalise masturbation and contributes to the healthy discussion around the benefits of using sex toys for self care.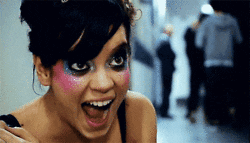 We at Ricky salute Lily and the team at Womanizer for joining forces.
However, when it comes down to it, what is a Womanizer and why is it any different to our best selling range of Satisfyer sex toys?
How does a Womanizer work?
Quite simply put: it's contactless stimulation.
The sex toy works by applying a very gentle suction directly over your clitoris to simulate oral sex.
Womanizer Liberty by Lily Allen, retails for a handsome £89
The user gently spreads the labia apart to reveal the naked clitoris. They then apply the soft stimulation head (of the toy) directly over the exposed clit to maintain a tight seal.
Cycling through the different intensity settings of the vibrator allows the user to enjoy various sucking sensations on their sweet spot.
It's a unique sensation and one that sends the user absolutely wild during orgasm. Infact, the climax can be so intense it's difficult to compare it with any other sex toy.
Except for the Satsifyer that is...
How is the Satisfyer different?
In our humble opinion, there is no discernible difference between Satisfyer and Womanizer.
Both Satisfyer and Womanizer are two brands of sex toy that focus on delivering contactless stimulation to achieve a blow-out orgasm.
Satisfyer call it 'air pulse technology', whilst Womanizer coin it as 'pleasure air technology'. 
Satisfyer Pro 2 retails for £44.95 on Ricky.

Both companies are undeniably huge in this industry and fiercely battle it out to call themselves the leader in this field. But - to you or I - they both sell incredible clitoral stimulators that offer toe-curling orgasms via zero contact.
Pros and cons
Quality: Draw
We can't sit here and criticise either of the two. Both Womanizer and Satisfyer use premium, body-safe materials to ensure their products are of the highest quality and are totally safe to use.
Style: Draw
This one is purely down to personal preference.
These two brands have spent big bucks and recruited some of the best product designers around the world to create their masterpieces. 
Womanizer's latest piece: Liberty by Lily Allen is small and elegant; very convenient to travel with, and has been designed with stunning pink and orange colours for the wow effect.
Satisfyer's best selling suction toy: the Satisfyer Pro 2 has a sophisticated rose gold body; featuring gentle curves to fit effortlessly into your hand for a true ergonomic design.
Price: Satisfyer wins
When it comes to concluding the debate on Satisfyer vs Womanizer, for us it boils down to price.
Womanizer have priced their clitoral stimulators much more expensively than Satisfyer. For example - at time of writing - the Starlet 2 (one of the cheaper Womanizer models) is priced at £69.00 on their UK website.
The new Liberty by Lily Allen sells for even more at £89.00.
Whereas, Satisfyer come in much cheaper. Their most famous and by far, best selling vibe: The Satisfyer Pro 2 sells for a reasonable £44.95 here on Ricky.
This model sells so well that we find it regularly sells out - that's a lot of very happy ladies.
Sex toys that definitely don't suck (okay they do, but not in a bad way!)
Suction sex toys are here to stay and for very good reason. 
Both Satisfyer and Womanizer have spent $ millions on developing their world class clitoral suction devices and they both enjoy thousands of satisfied customers around the globe.
The sexual sensation enjoyed from clitoral suction is totally unique compared with any other sex toy. So if you haven't tried one before, we HIGHLY recommend you give one a go to see what all the fuss is about.
Ricky has made a commercial decision to stock Satisfyer purely because we love their design and attention to detail, combined with their very reasonable pricing.
That's not to say we don't love Womanizer.
We believe both brands deliver remarkable clitoral stimulation - totally contactless to the clitoris - where other brands have tried and failed...
Check out Ricky's full range of Satisfyer suction sex toys.
Satisfyer even sell clitoral suction stimulators that come in the form of an impeccably dressed penguin.